BRUTAL TIMES – Cevdet Erek, Catherine Nichols in conversation with Nita Deda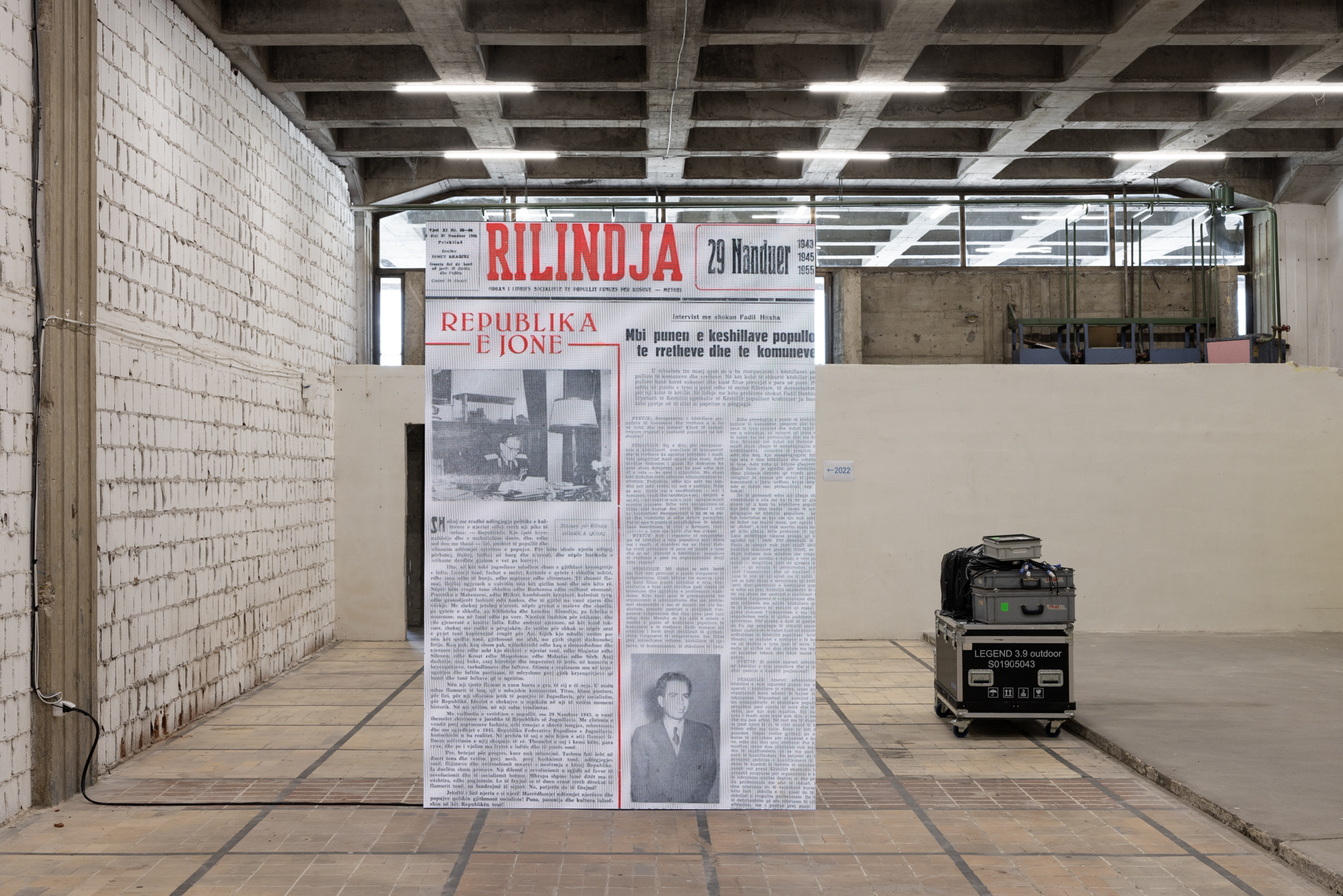 Join us for a conversation with Cevdet Erek, Catherine Nichols and Nita Deda that departs from the artistic intervention Brutal Times, situated in the recently protected heritage site Rilindja.
As an iconic architectural landmark, Rilidnja's presence has many layers that one has to grapple with. Beginning from the history its walls convey, to the hopes and desires, that the public space now presents.
Engaging with a now-abandoned section of the building, the artist draws out the temporalities embedded within the post-privatisation void: using graphics, lights and sounds, associated with the production process of the newspapers and techno music.
The rhythms of Brutal Times are based on Rilindja's timeline, running from the end of the second world war to the 1990s: one second of the artwork stands for one day in history. With this immersive environment, Erek creates a space of embodied memory and experience, raising the question of what comes next.
More about Cevdet Erek
Cevdet Erek (1974, TR) is an artist and musician. A major part of Erek's artistic practice is site-specific installations. Contemplating and exploring rhythms, his work produces intense bodily experiences and establish provocative correlations between different temporalities and histories, forms and languages.
His unique spatial and sonic language is partly rooted in his university education and experience in architecture, sound engineering and design and in his continuing music practice. Erek's work often involves architectural interventions that include the unconventional use of sound systems and graphics. They are occasionally stimulated by improvised performance.
More about Catherine Nichols
Catherine Nichols, an arts and literary scholar, curator and writer, will take the artistic lead for the next edition opening on the 22nd of July 2022. Having mounted acclaimed exhibitions across Germany, she is currently the artistic director of beuys 2021, a year-long centenary programme in the state of North Rhine-Westphalia dedicated to the artist Joseph Beuys.
More about Nita Deda
Nita Deda is a cultural operator in Kosovo with experience as festival director, music curator, film producer and communications expert. Nita was the Director of International and Short Film Festival DokuFest, and in that role she was essential in providing structure and flair to the festival, simultaneously cementing the foundations for DokuNights, the festival's musical program, by curating its music line-up for a decade. As co-founder of Andrrat Moderne, Nita is part of a collective that serves as a platform for music, photography, literature, film, design, and other possibilities coming out of collaborations with artists and friends.
She is currently working with Manifesta Biennial as part of its local team in Prishtina as the communications coordinator.