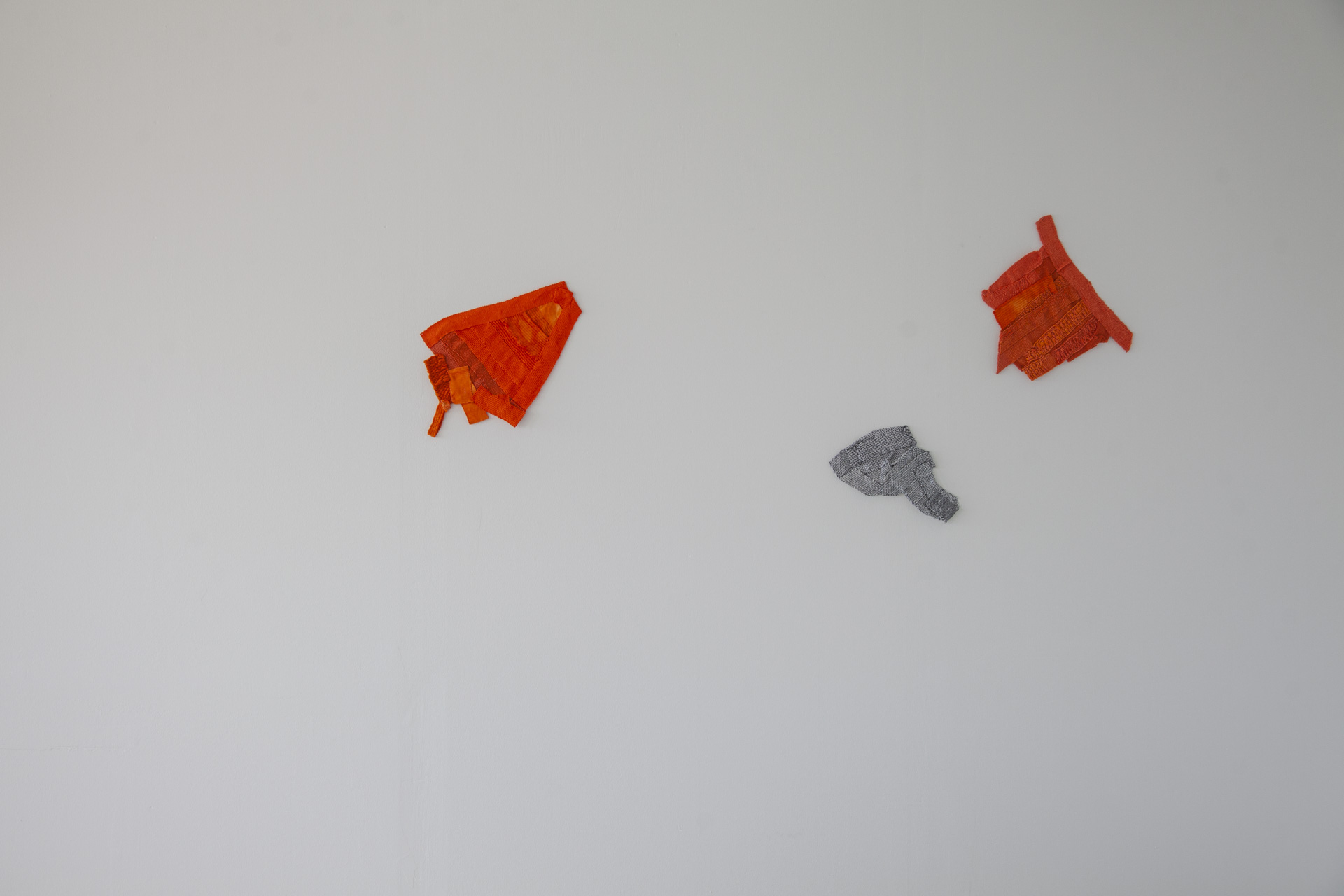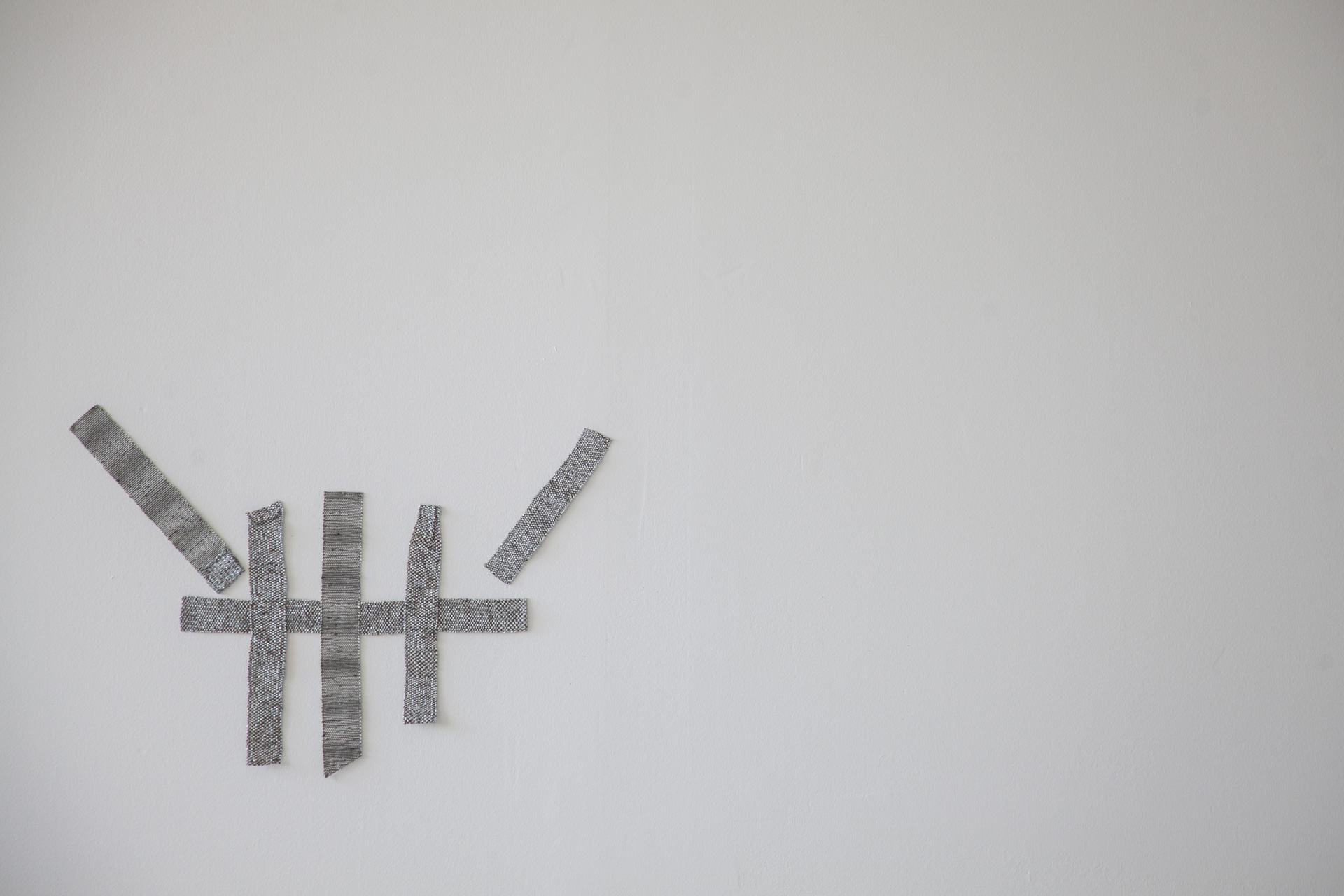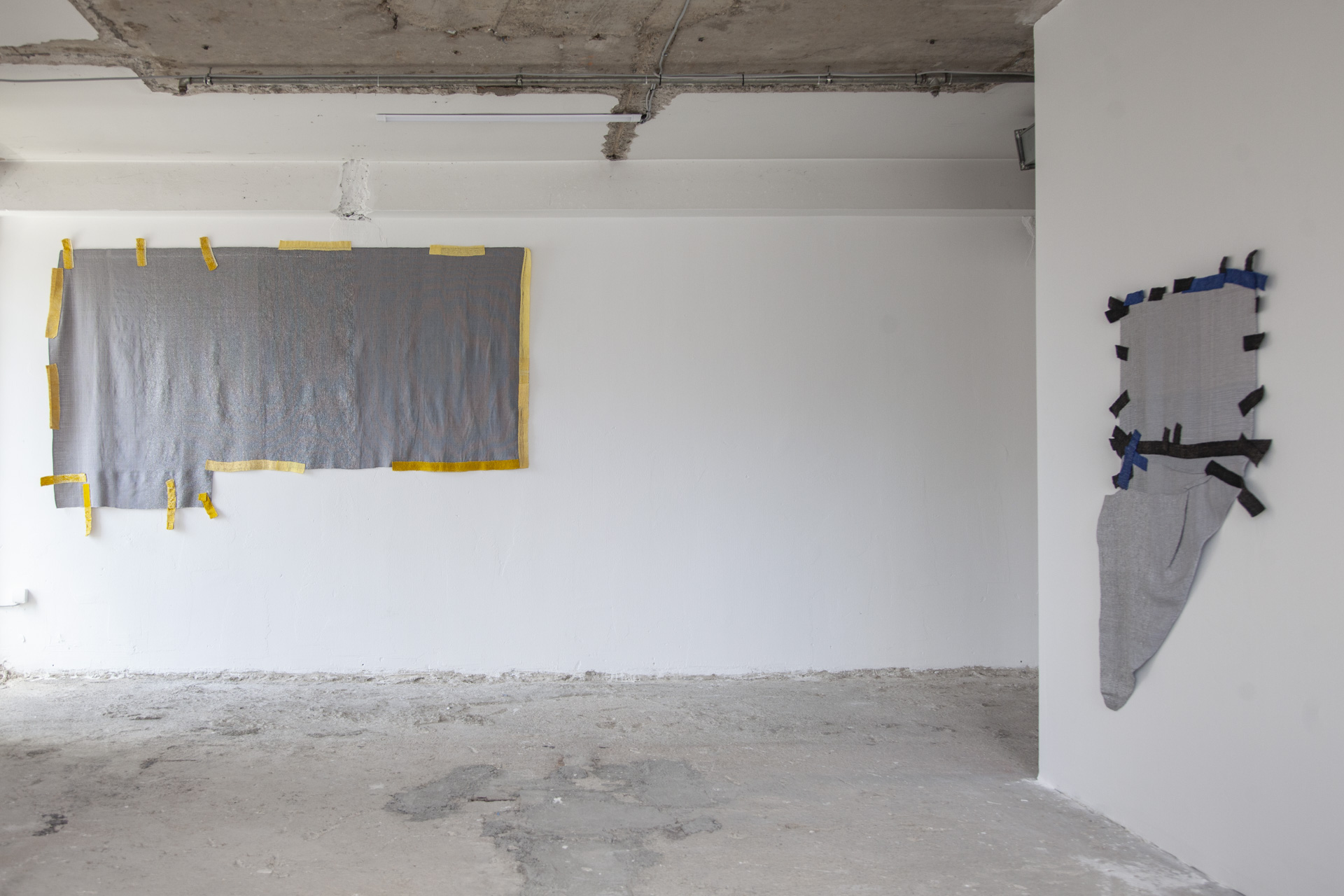 Hana Miletić has been working on her Materials series since 2015. With the colourful handwoven textiles comprising this body of work, the artist responds to sites of transformation and makeshift repair she encounters in urban cityscapes.
The works shown here refer to Prishtina and incorporate local unprocessed wool. Her most common points of reference are broken architectural elements and dented infrastructure, patched up in a manner equally pragmatic and poetic. Miletić begins by photographing these restorative interventions.
The resulting images she treats as "cartoons" or blueprints for weavings that reproduce the form and colour of their source. Their apparent allusion to artistic abstractionism belies their commonplace origins and their shared authorship.
In reproducing such everyday acts of care, Miletić lends these gestures the attention they would not otherwise have. At the same time, she underscores their innate artistic value – both in terms of their formal vocabulary and their embodiment of social sculpture whereby people shape their environment.
Starting from a background in documentary photography and inspired by the long tradition of handwork in her family, Hana Miletić (1982, HR) has developed an artistic language based mainly on the creation of woven textile works.
Miletić uses the weaving process to reflect on the social and cultural realities in which the artist herself works. Weaving, which requires practice, time, care and attention, allows the artist to formulate new relationships between work, thought and the emotional sphere.
The creating process also allows Miletić to counteract certain economic and social conditions at work, such as acceleration, standardisation and transparency. Through her use of weaving, Miletić reproduces public gestures of care and repair, while consciously dealing with the encountered states of objects transition.
Works
Hana Miletić
Materials   
2020   
Hand-woven textile (1. apricot orange Merino wool, carrot- and dahlia-coloured organic cotton, dahlia-coloured organic cottolin, dahlia-coloured recycled nylon, orange silk, pale apricot orange cotton silk, pale orange recycled rubber, tangerine orange felted raw wool and tangerine orange mercerized cotton; 2. black organic cottolin, recycled metal thread, silver metal yarn, silver-sprayed mohair and silk, white gold mercerized cotton, and white mohair and silk; 3. apricot orange merino wool, carrot and dahlia-coloured organic cotton, orange silk, pale apricot orange cotton silk and yellow orange organic silk)   
160 × 70 × 2 cm   
Courtesy of the artist and LambdaLambdaLambda, Prishtina/Brussels   
Hana Miletić
Materials 
2021 
Hand-woven textile (ash grey eucalyptus yarn, ash grey recycled plastic and cotton, azure blue recycled polyamide, black recycled nylon, black repurposed polyester, brown-grey organic raw wool, dark blue peace silk, deep blue organic cottolin, grey peace silk and silver metal yarn) 
138 × 95 × 4 cm 
 Courtesy of the artist and LambdaLambdaLambda, Prishtina/Brussels   
Hana Miletić
Materials   
2020   
Hand-woven textile (black organic linen, black organic raw wool, brown-grey organic raw wool, burned recycled woodfibre and dark blue organic linen)   
8 × 22 × 2.5 cm 
Courtesy of the artist and LambdaLambdaLambda, Prishtina/Brussels   
Hana Miletić
Materials   
2021   
Hand-woven textile (brown-grey organic raw wool, chestnut wool and silk, silver metal yarn, smoke grey silk paper and variegated cream organic linen)   
46 × 68 × 1 cm 
 Courtesy of the artist and LambdaLambdaLambda, Prishtina/Brussels   
Hana Miletić
Materials 
2021 
Hand-woven textile (brown-grey organic raw wool, black cottolin, copper recycled polyamide, grey organic raw wool, gold metal yarn, organic hemp and russet organic linen) 
16 × 32.5 × 2.5 cm 
Courtesy of the artist and LambdaLambdaLambda, Prishtina/Brussels   
Hana Miletić
Materials 
2021 
Hand-woven textile (ash grey eucalyptus yarn, bright yellow organic raw wool, butter yellow peace silk, grey peace silk, lemon yellow linen and silk, silver metal yarn, stone grey eucalyptus yarn and yellow recycled rubber) 
160 × 270 × 3 cm 
Courtesy of the artist and LambdaLambdaLambda, Prishtina/Brussels