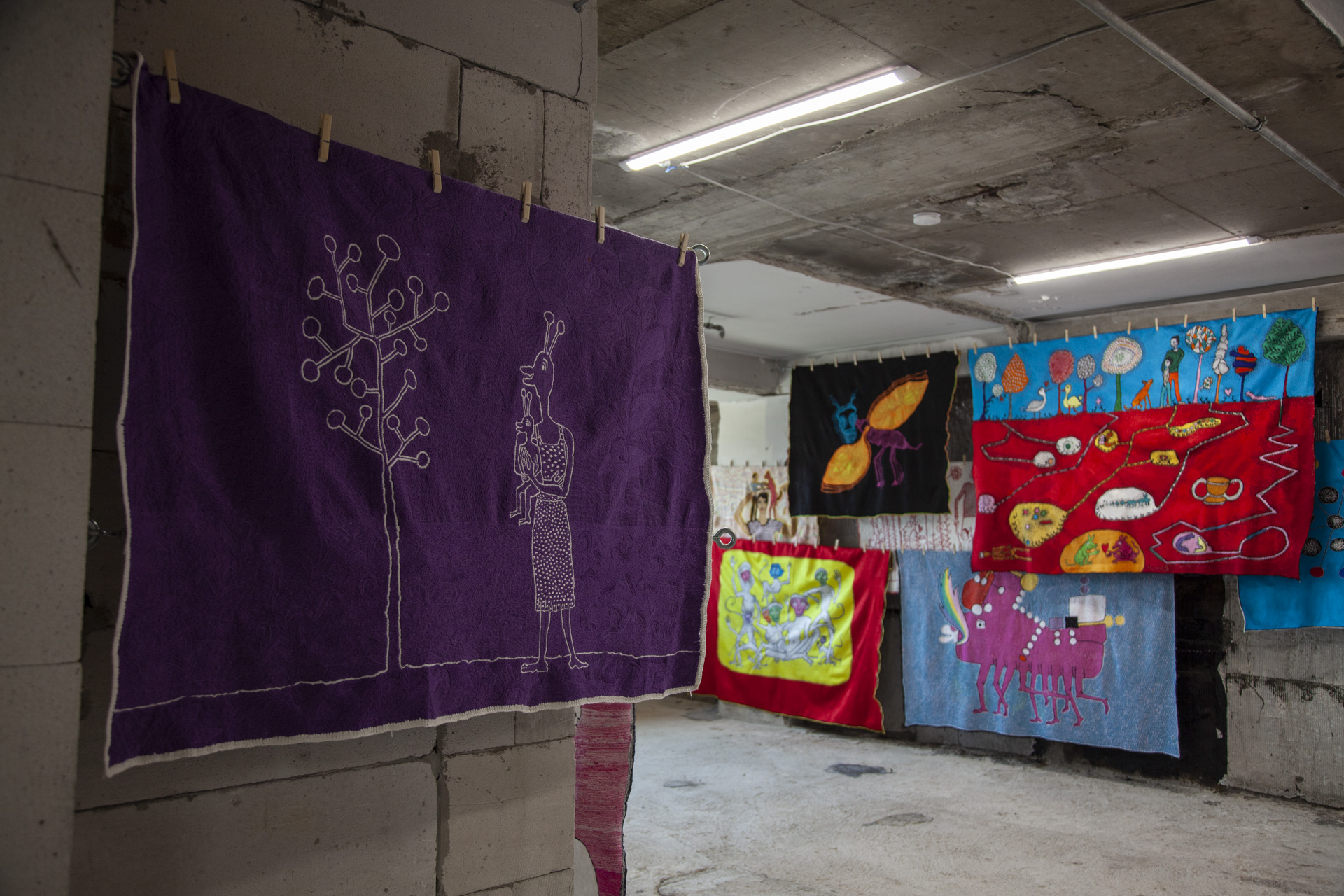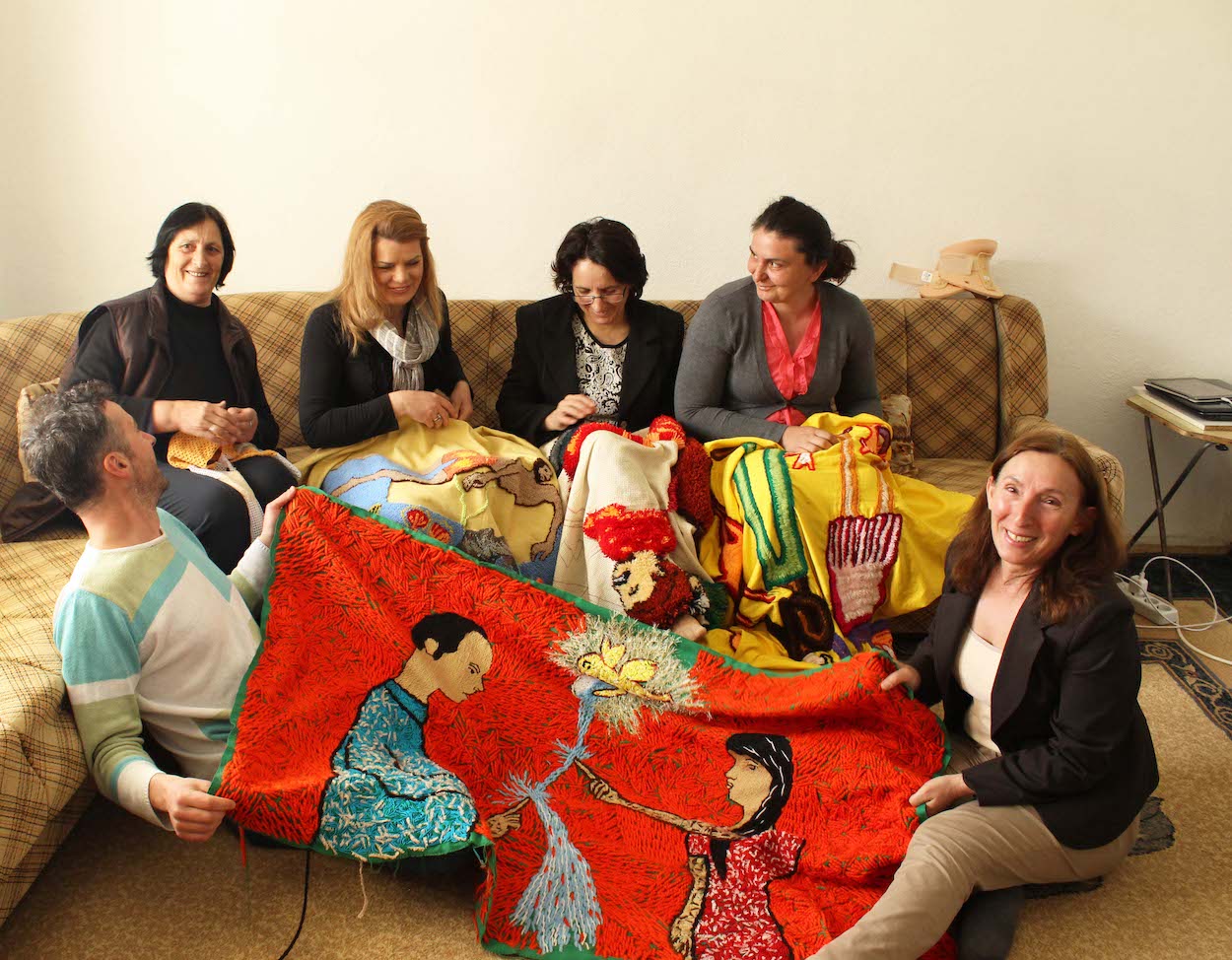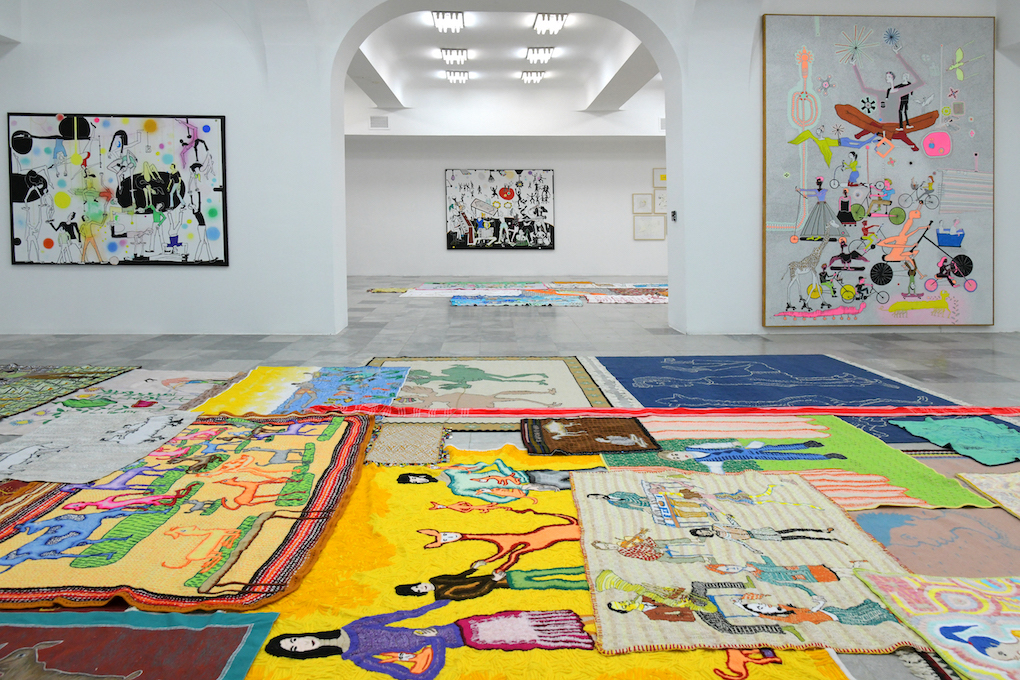 "Our job is to live in a thick time of caring for and with each other", writes theorist Donna Haraway. "That's neither optimistic nor pessimistic, but it involves cultivating the capacity to keep a kind of love and heart with each other". The caring for and with she has in mind is "multi-species, multi-racial, multi-kinded".
Working in a post-conflict society, Jakup Ferri follows much the same lines as Haraway in his practice. Influenced by outsider and vernacular art, though predominantly guided by his own intuition and imagination, Ferri draws all manner of creatures conversing, collaborating and co-existing. Plants, animals, humans and hybrids all share the same magical picnic blanket, as it were: they make kin with one another.
The artist's minutely detailed drawings are the place where he does his thinking. They also serve as the model for his paintings, embroideries and carpets, the latter two being produced together with traditional craftspeople.   
While studying at the turn of the new millennium, Jakup Ferri (1981, RKS) sensed that his home city Prishtina was invisible and isolated from the western (art) world. These impressions of alienation influenced his early work, primarily films in which he established an ironic distance to issues of cultural identity, history and the place of the peripheral artist. They have continued to colour his practice in the decades since.
In recent years, Ferri has focused on making drawings, tapestries, mosaics and paintings. He has also conducted extensive research of, and established enduring collaborative relationships with, outsider and folk artists, seeing huge value in their engagement with handmade materials such as carpets, glass, wood and textiles and the locally-specific methods for their production.
Recurring subjects in his practice include the desire for contact and to feel a part of something, as well as experiences of failure and questions involving identity.
Works
Jakup Ferri
Frekuenca Çiltërsia [The Frequency of Frankness]
2012-2022   
Installation with embroideries  
Courtesy of the artist   
Past
Workshop