Sunflower Fields 2021 – Agnes Denes / Autostrada Biennale / Manifesta 14 Prishtina
Manifesta is pleased to collaborate with the third edition of Autostrada Biennale on Agnes Denes' project Sunflower Fields 2021 in which we celebrate a central public space in Prishtina, the Palace of Youth and Sports.
Agnes Denes, born in Hungary, raised in Sweden, and currently New York-based, is a pioneer of several art movements, always investigating science, philosophy, history, psychology and music. Within her artistic practice, she highlights and engages with sociopolitical ideas while incorporating strong, arresting aesthetics.
Environmental activists, students and children from Prishtina gathered with the teams of Autostrada Biennale and Manifesta 14 Prishtina to plant the sunflower seeds. Their presence and input has been vital for the co-creation and co-ownership of the artwork. In Denes' words, "When things grow, blossom, life is expressing its transformations and secrets. Watch, listen, participate. We all can be like sunflowers, grow, nourish, endow others with our richness, turn to the sun, then reflect its warmth to all living creatures."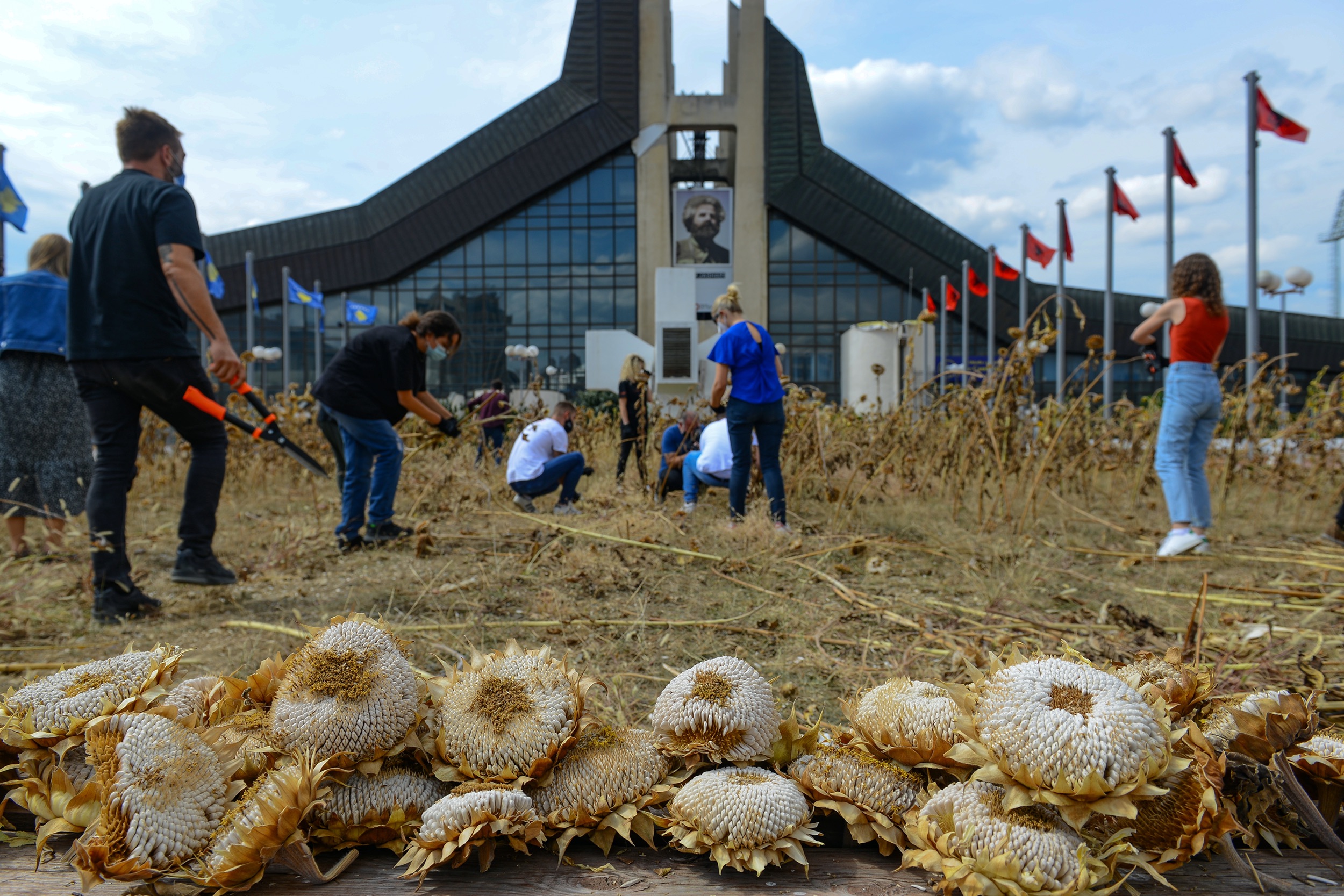 As Manifesta 14 Prishtina, we are eager to co-produce our activities with key local players and our collaboration with Autostrada Biennale is an important step for us to build such relationships. This is the start of Manifesta 14's artistic activity within Prishtina, which will be one of several projects created in the lead-up to our biennial in 2022.
We are extremely grateful to Autostrada for giving us this opportunity, to Leutrim Fishekqiu, Vatra Abrashi, and their team and to the curators of the third edition of Autostrada Biennale, Övül Durmusoglu, and Joana Warsza.