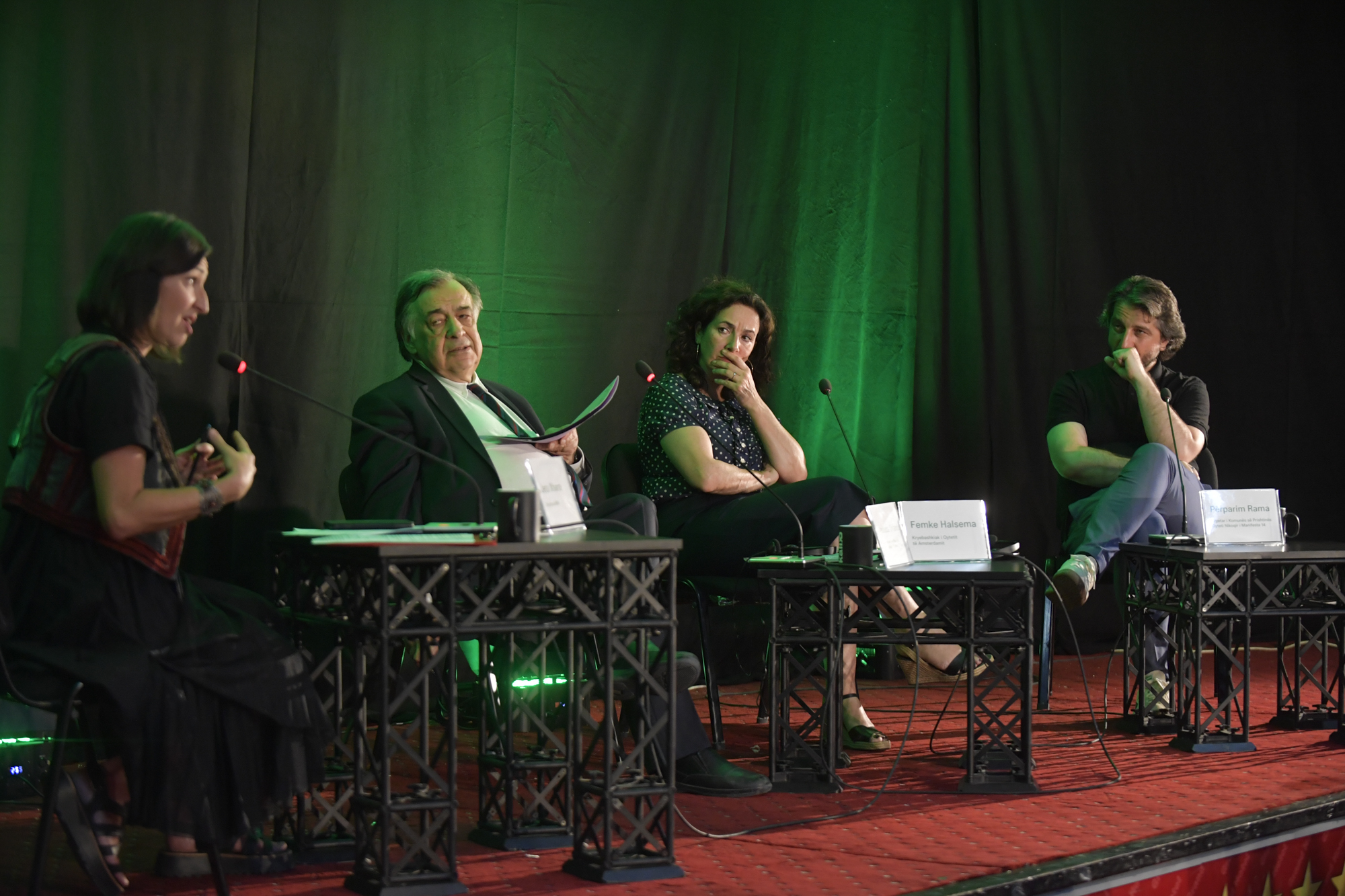 As a part of Manifesta 14 Prishtina, four televised panels were conceptualised and organised by Hedwig Fijen, the Director of Manifesta 14 Prishtina, as a way to open up the conversation of reclaiming public spaces in Prishtina and urban and cultural transformation within European cities, to the people of Kosovo. Invited by Balkan Investigative Reporting Network (BIRN) and Klan Kosova, two Kosovar Television networks, each panel welcomed different guests who offered their expert experience and insight regarding the topics discussed. All panels are now available to watch, check out what was discussed below!
Greening the city – 25.07.2022
Panel members:
Daniele Belleri Jaforte, Partner CRA- Carlo Ratti Associati
Ippolito Pestellini Laparelli, Curator, Architect and Creative Mediator Manifesta 12 Palermo
Javier Arpa Fernández, Architect, Editor-in-Chief of MVRDV
Host:
Arbresha Shpati, Journalist and Anchor at Klan Kosova
The first of the panels held, hosted by Arbresha Shpati, covered the issue of "greening" which questioned how previous, current and future architects worked within the context of Manifesta's editions in Palermo, Marseille and Prishtina in creating sustainable urban practices. Within the context of Prishtina, this is particularly important as the city deals with issues of pollution and a lack of green, public spaces for citizens to enjoy.
Reclaiming Pubic Urban Space: Mayors Panel – 15.09.2022
Panel members:
Femke Halsema – Mayor of Amsterdam
Përparim Rama – Mayor of Prishtina
Leoluca Orlando – Previous long-term Mayor of Palermo
Host:
Jeta Xharra, Co-founder of Balkan Investigative Reporting Network and Executive Director of BIRN Kosovo
In this panel discussion, Kosovar journalist Jeta Xhara speaks with three individual Mayors from different cities who have faced issues in reclaiming public urban spaces and have tried or are trying to solve complex problems as a result of the recent history of their cities. She explores the parallels between the cities, and how they have gone about dealing with obstacles the cities have faced. Within this panel, they question the variety of different models' the cities have used and are using, to create a more diverse, enjoyable urban ecosystem for their citizens.
Becoming a Museum – 27.09.2022
Panel members:
Kasper König, former Director Ludwig Museum Cologne
Hélène Guenin, Director at MAMAC (Museum of Modern and Contemporary Art), Nice
Yll Rugova, Head of Council of Contemporary Art of Kosovo, Manifesta 14 Prishtina Board Deputy Chair
Sofi Hernandez-Chong Cuy – Director of Kunstinstituut Melly in Rotterdam
Host:
Jeta Xharra, Co-founder of Balkan Investigative Reporting Network and Executive Director of BIRN Kosovo
A long-term wish for many in the Kosovar art scene is to build their own museum of contemporary art, an initiative gaining momentum despite it being a time when worldwide public surveys and experience indicate that less people are motivated to visit museums and cultural spaces. Manifesta 14 Prishtina has come up with an alternative model to traditional museums, including with and through the multidisciplinary Centre for Narrative Practice and its making spaces and the decision to create a thematic exhibition at Grand Hotel Prishtina.
In the third panel, these influential international museum directors and cultural leaders respond to questions on the evolving relationship between museums and their audiences. They question what a contemporary museum in Prishtina could look like, and how it would function.
Ukraine Delegation Panel – 21.10.2022
Panel members:
Yuliia Hnat, co-founder, Museum of Contemporary Art (MOCA) NGO, Ukraine
Kateryna Iakovlenko, visual culture researcher, writer, Ukraine
Alex Fisher, curator, essayist, former Fulbright scholar in Ukraine
Erëmirë Krasniqi, Executive Director, Kosovo Oral History Initiative
Ervina Haliti, writer and activist, organiser of the RILINDJA archive Kosovo
Moderator:
Jeta Xharra, Co-founder of Balkan Investigative Reporting Network and Executive Director of BIRN Kosovo
Convening a group of scholars and activists from and focusing on Ukraine and Kosovo, the fourth and final panel focused on cultural resilience amidst and in the immediate aftermath of armed conflict. The panelists discussed a range of strategies for protecting cultural heritage from imperial conquests and the haphazard forces of privatisation, comparing legacies of socialism in formerly Soviet and Yugoslav contexts. Central to the conversation was the current situation in Ukraine, specifically as it relates to the status of archives, women's rights, and the evolving national identity in response to the Russian full-scale invasion. The critical importance of increasing cultural exchange between Kosovo and Ukraine was mutually agreed upon.
We would like to thank those involved in the creation of these panels, BIRN and Klan Kosova for their platforms, each guest for their insight and Hedwig Fijen for initiating them as a concept. In addition, we thank the citizens of Prishtina, and the rest of Kosovo, for engaging with these panels, as their input in essential to ensure that these topics are answering to their wants and needs.