Manifesta 14 Prishtina x IBA Conference Programme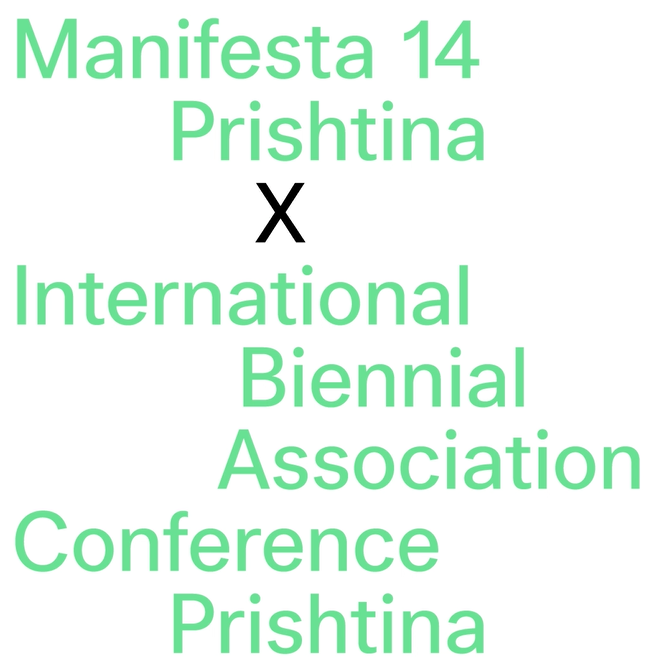 On Thursday the 20th and Friday the 21st of October, Prishtina hosted the International Biennial Association Conference at Kino ARMATA
On the occasion of the 9th General Assembly and Conference of the International Biennial Association (IBA) occasion, Manifesta organized a two-day conference which examined the broadening of the traditional biennial exhibitionary format, addressed contemporary biennials as tools for educational, cultural, and social development, with a focus on a community oriented approach.
An array of leading art world professionals and educators presented their different approaches and collectively discussed new models for biennials in conflict or (post) – conflict areas and times.
Panel discussions were then followed by focus groups, where participants from across the world discussed a variety of issues, such as visa issues and mobility, community and inclusion, and biennials in the context of conflict.
Check out the programme with the list of speakers below: 
Thursday the 20th of October 2022
Venue: Kino Armata
09.30 – 10.00
Opening Addresses:
Hoor al Qasimi, UAE, President of the International Biennial Association (IBA)
Hedwig Fijen, Director Manifesta 14 Prishtina
Përparim Rama, Mayor of Prishtina
Hajrulla Çeku, Minister of Culture, Youth and Sport of the Republic of Kosovo
Introduction by Catherine Nichols, Creative Mediator Manifesta 14 Prishtina
10.15 – 11.45
Panel Discussion 1
About Alternative Education Models and the Collective Construction of Learning
Speakers: Rina Gosalci, Manifesta 14 Education Projects Manager; Linda Gusia, Lecturer at the Department of Sociology at the University of Prishtina, Kosovo; Marielsa Castro, Associate Curator at Museo Jumex, Mexico City
Introduction and Moderator: Zef Paci Professor of Art History and Painting at the Faculty of Visual Arts, University of Arts, Tirana, Albania
12.00 – 12.30
Keynote speaker
Pablo Helguera, Artist, Performer, Author and Educator, NYC
Friday the 21st of October 2022:
Venue: Kino ARMATA
10.00 – 11.45
Panel Discussion 2
About the Power of Education and Mediation in Times of Crisis
Speakers: Yulia Hnat, Co-founder, Museum of Contemporary Art (MOCA) NGO, Ukraine; Representative from Ashkal Alwan, the Lebanese Association for Plastic Arts; Kateryna Iakovlenko, visual culture researcher, writer, Ukraine.
Introduction and Moderator: Christian Oxenius, Head of Research and Content Manager of IBA
13.45 – 15.30
Panel Discussion 3
About Biennials as Tools for Educational, Cultural, and Social Development
Speakers: Sami Mustafa, Independent Documentary Director, Tutor, Founder of Romawood, Participant of Manifesta 14 Prishtina; Atteqa Malik, Artist, Cultural Operator and Founder Member of the Karachi Biennale, Pakistan; Vatra Abrashi, Pedagogue, Co-founding Director of Autostrada Biennale, Prizren, Kosovo
Introduction and Moderator: Jordi Ferreiro, Education and Mediator Coordinator of Manifesta 14 Prishtina
We would like to thank the International Biennial Association for choosing Prishtina as the host city for this General Assembly, and to all the participants who travelled far and wide to attend the event.